My 5th graders are working through a unit on natural resources, particularly our energy sources.  Having learned about the layers of the earth, the rock cycle, and fossils, we are looking at fossil fuels.  While they have built some background knowledge through books and online web sources (I love Energy Kids!), I wanted to incorporate  hands-on activities for each type of fossil fuel.
Since the first fossil fuel we are learning about is coal, I decided to use an activity I first learned about while working at Asbury Woods Nature Center. If you do an online search, there are many free resources outlining this activity.  The gist of it is that students receive a chocolate chip cookie and must "mine" the "coal chips" with a toothpick or paperclip.  They get to see how the cookie, which represents the Earth, is changed by mining – a visual representation of the damage done by surface or strip mining.
To gear my kids up for this project, I started the unit by showing a video: 300 Years of Fossil Fuels in 300 Seconds, available at YouTube.  This video is VERY information heavy, so I made sure to explain to students I don't expect them to learn or remember everything. I asked them to listen for information about fossil fuels, specifically coal, and identify ONE thing they didn't know (and now do).  I will admit that I like to push my students – I don't expect them to master every task I give them, but I always want them to TRY.  And I am blessed to have students willing and motivated to do so!
After we watched the video, I discussed with them how the Industrial Revolution changed our source of energy from "muscle power" to "machine power," which derives its energy primarily from fossil fuels.  We discussed how nearly everything we use and do each day is in some way created from fossil fuel power, and we brainstormed what might happen if suddenly we didn't have that source of energy anymore.
After this class discussion, students read about fossil fuels from a volume in a set of books called Science Explorer.  The Science Explorer series are a set of thin books on a wide range of topics, and I actually prefer them to our science textbooks.  As they read, students worked together to make an outline of all of the headings and the important information found in each section.  This was a skill that was new to my students, so we did the first few headings together, and afterward, we reviewed what things students wrote under each heading.  You can see a sample of their outlines below:
Then, students read about the mining and transportation of coal in more detail from the Energy Kids website.
Then, our activity started!  Briefly, students were given a set of instructions (class set), the supplies to mine their cookies, the graph paper worksheet, data analysis worksheet, and conclusions worksheet.  As a part of their data analysis, I provided the skeleton of the chart I asked them to create, as this is a skill that is relatively new to my middle school students.  It was a great way to incorporate math into the activity without taking up a ton of time!
Like I said above, you can find many free resources that explain this activity.  They can provide you with the instructions and maybe some follow up questions.  That said, the instruction sheets and student worksheets that I created are available for purchase at my Etsy shop, as well as TeachersPayTeachers. I love resources that look professional AND fun, even if my students and I are the only ones to see them! If you are the same way, please check out my creations! You can also see a preview of these documents below. I was able to utilize Roxie's Creations, Trina Clark, and  DigiWebStudio to make it all look absolutely wonderful as well!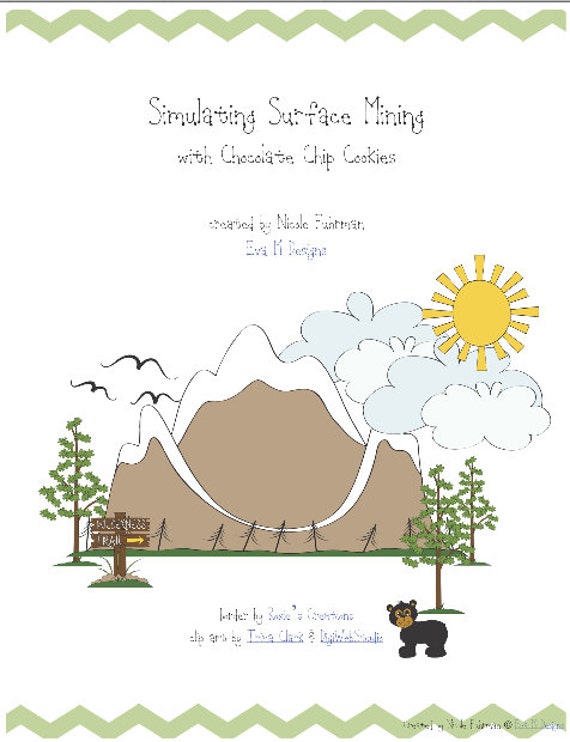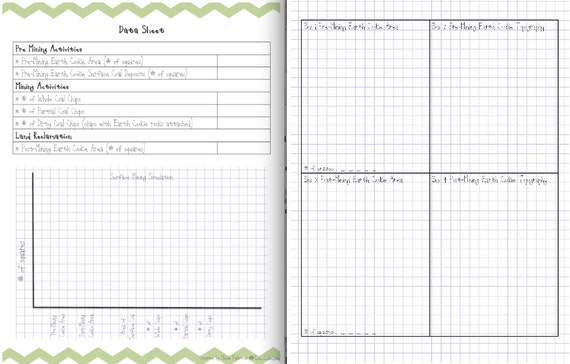 My students LOVED the activity – let's be honest, anything that involves food is a hit!
They also learned a lot though.  Not only were they able to see the effects of mining on the environment as a problem, but they could also identify its consequences and brainstorm ways to reduce that impact.