My students are continuing their year-long study of energy by investigating its ties to Earth Science, particularly in the form of fossil fuels.  My goal in this unit is to demonstrate the effects of using fossil fuels on the environment.  While certainly a big impact of fossil fuel use is climate change, my focus in this unit is the environmental impacts of extraction.  (I plan to get into climate change in the next unit, as we examine climate and weather and their impacts on ecological systems.)
In my last post, my students investigated the effects of surface mining on "Earth Cookies." I wanted to find a similarly hands-on activity to investigate oil extraction, particularly off-shore oil drilling.  I came across an idea online to simulate an oil spill clean up using vegetable oil, food coloring, and student creativity.  From this basic framework, I created a set of instructions and student printables for this activity.  You can find it at my website: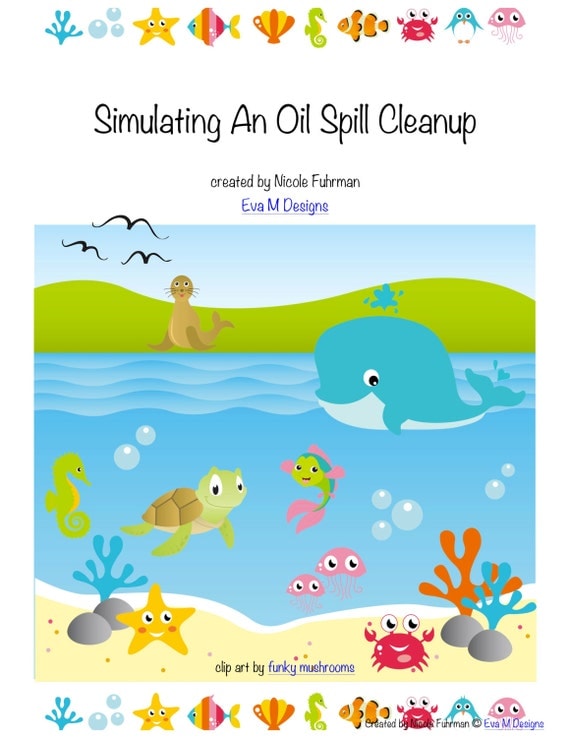 First, my students learned about oil by exploring the EIA Energy Kid website.  We also watched a short video on the Exxon Valdez oil spill in Alaska 1989, and read about the 2010 Deepwater Horizon explosion and oil spill.  Finally, students created a chart to list the different tools and strategies that are used in the real world to clean up oil spills.
The list they created included:
– booms  (that contain or corral oil slicks)
– skimmers (that scoop oil from the surface)
– sinking agents (that bind to oil and make it sink to the bottom)
– sorbents (that absorb oil)
– biological agents (fertilizers that speed up plant growth and therefore biodegradation)
– dispersants (that break petroleum into small droplets)
Working from this list, students created their own devices that fulfilled these different purposes.  I provided students with a number of supplies, from cotton balls and string to corks and craft sticks.  They then worked in small groups to develop booms and skimmers, and to identify what materials they would use for sorbents and sinking agents.
This took about two 45 minute class periods, and they came up with some really creative ideas.  You can see some of their designs below:
After this engineering activity, students created an oil spill to test their strategy.  One student acted as the group's recorder, documenting the evaluation of each device and the group's observations.
This activity was definitely a success.  I was able to incorporate engineering activities into the unit, and students were able to see the challenges of removing oil from the environment.  While climate change has been a hot topic in terms of fossil fuel use, it's important to remember these energy sources can affect our environment in other ways as well. Finally, this activity will help my students during the upcoming unit assessment, which will ask students to represent various stakeholders in a discussion over a town's energy decisions.  Stay tuned to hear more about that activity!